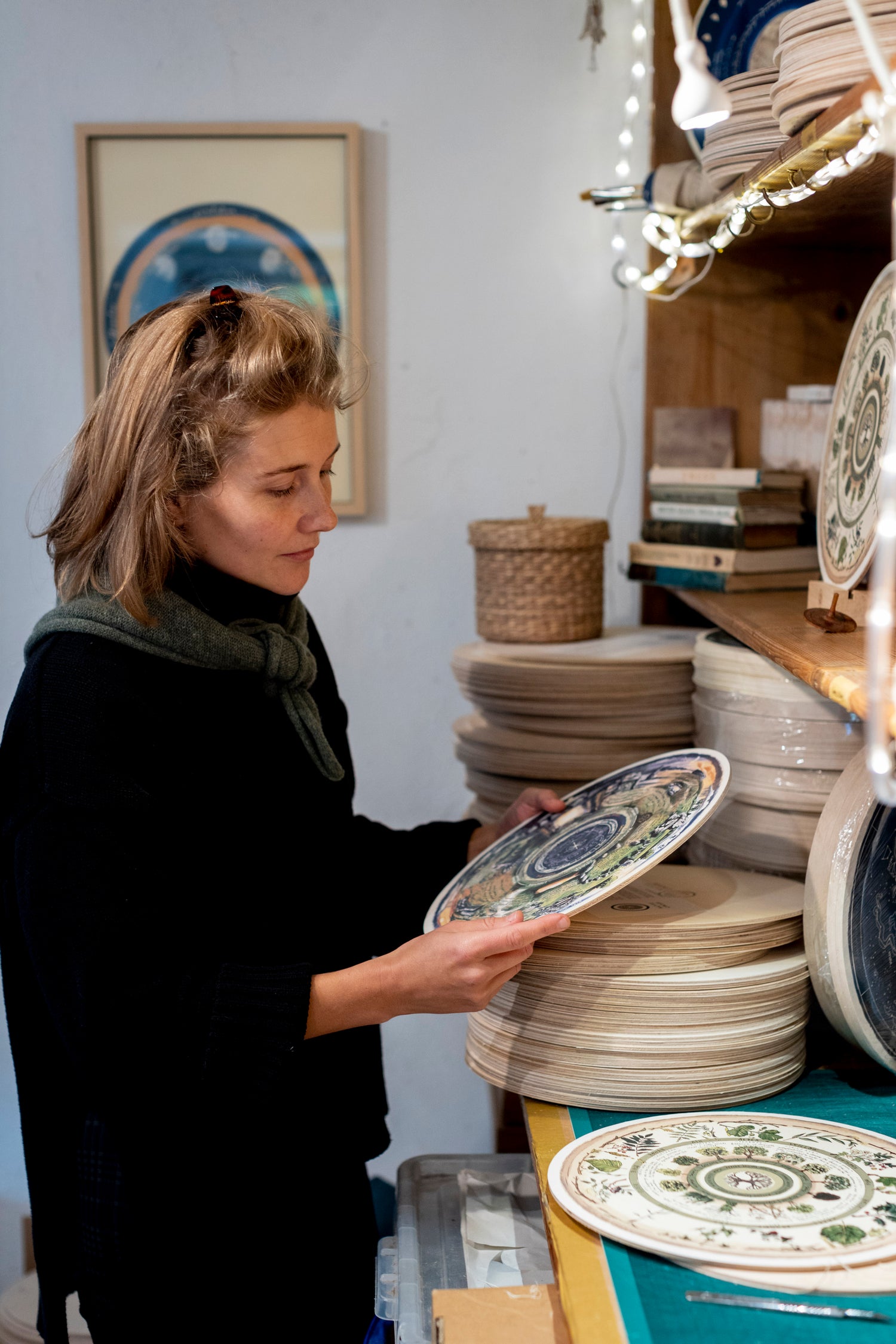 I live in County Wicklow, known as the "Garden of Ireland."
I hand-draw Native Circles here in my home studio. I studied Fine Art Print at the National College of Art and Design before spending 10 years working as a freelance artist and environmental educator.
In my own life, these cycles have become central to how I live and move in the world. I am deeply supported by nature — taking great solace from the feel of a tree's solid trunk under my hand, or watching the changing colours of its leaves in the autumn. I've learned the importance of staying true to my cyclical nature and those of the natural world.
MY VALUES:

I'm passionate about nature — I believe reconnecting with nature is the first step towards healing, for people and our planet. I believe art is for everyone and nature is our shared home. 

MY VISION:

I want art and nature to become more accessible to more people. I want Native Circles to inspire lasting connections with nature that will lead to a kinder future — where we protect more habitats, help species rebuild and flourish, and work for cleaner water and unpolluted air. 

MY MISSION:

Native Circles offers beautiful and useful art for your home. I create products that are affordable, accessible, practical and pleasurable to use. I aim to minimize my impact on the environment and take steps to support local biodiversity by actively restoring habitats.
Like so many things, Native Circles was born out of darkness.
After many years of working as an artist, environmental educator and activist, I was at a burnout point and unsure what to do next. I knew my work made a difference: to the people who experienced my large-scale art installations, the young people I worked with, and all who shared concern for the natural world through my activism. But I could feel myself falter in body and mind, asking questions you may have asked yourself, too: can I keep this up? Will I keep on fighting until I burn out? How can I help people protect nature when we're so disconnected from nature in our daily lives? Deep down, I knew that the path I was on was not sustainable, and I was being called to follow another way.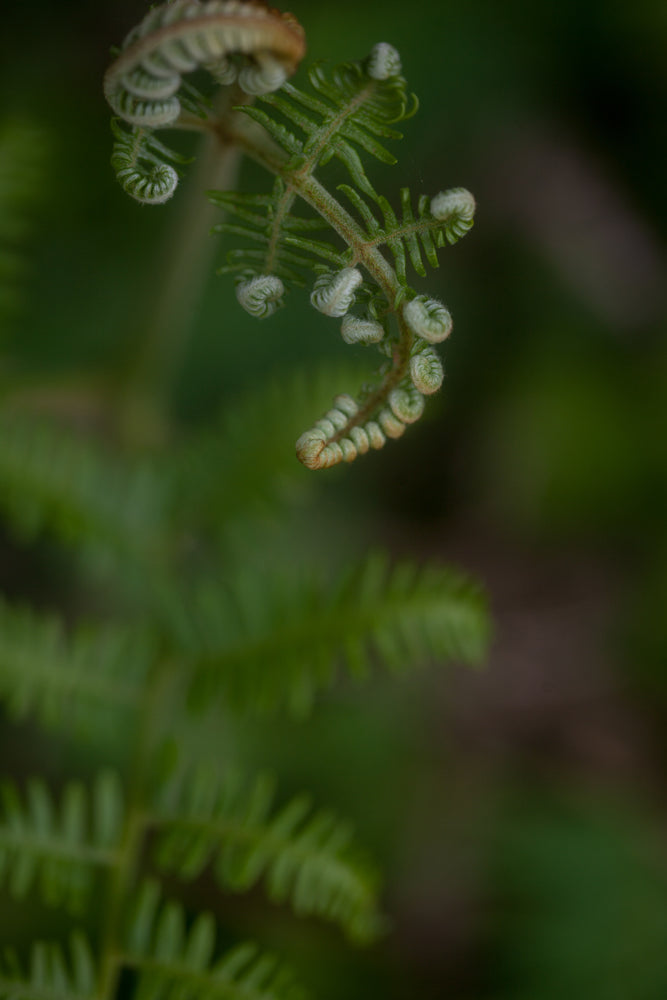 That year, I spent midwinter in a small cabin on a wild headland in Donegal.
I brought my pencils, notebooks, and reams of paper. I left behind the news and incessant social media feeds. It had been months since I'd had space to draw and paint. While I was there, I was commissioned to work on a piece — an illustration of a woman's energy throughout the menstrual cycle for a wonderful womb yoga teacher and friend, Lou Horgan.
I drew circles within circles. I thought about my energy and how I resourced myself. Between storms, I drew breath outside the small cottage and marvelled at the play of light on the Atlantic. My partner Sam and I hiked through the nearby mountainside to visit a local village. To my delight, it was adorned with many ancient standing stones, many of which had concentric circular carvings on them. I was awed.
Shortly afterwards, something quite magical happened: as I sat up late one evening drawing by candlelight, the vision for what is now Native Circles came in a full jolt of intuition, or knowing. Call it what you will, but it inspired me to draw and write urgently until I felt I'd captured the essence of what was showing up within me. I knew deeply that this was my work. I understood that helping myself and others to reconnect to the wonder of nature's cycles was my vital next step.
Read more about my discovery story in Donegal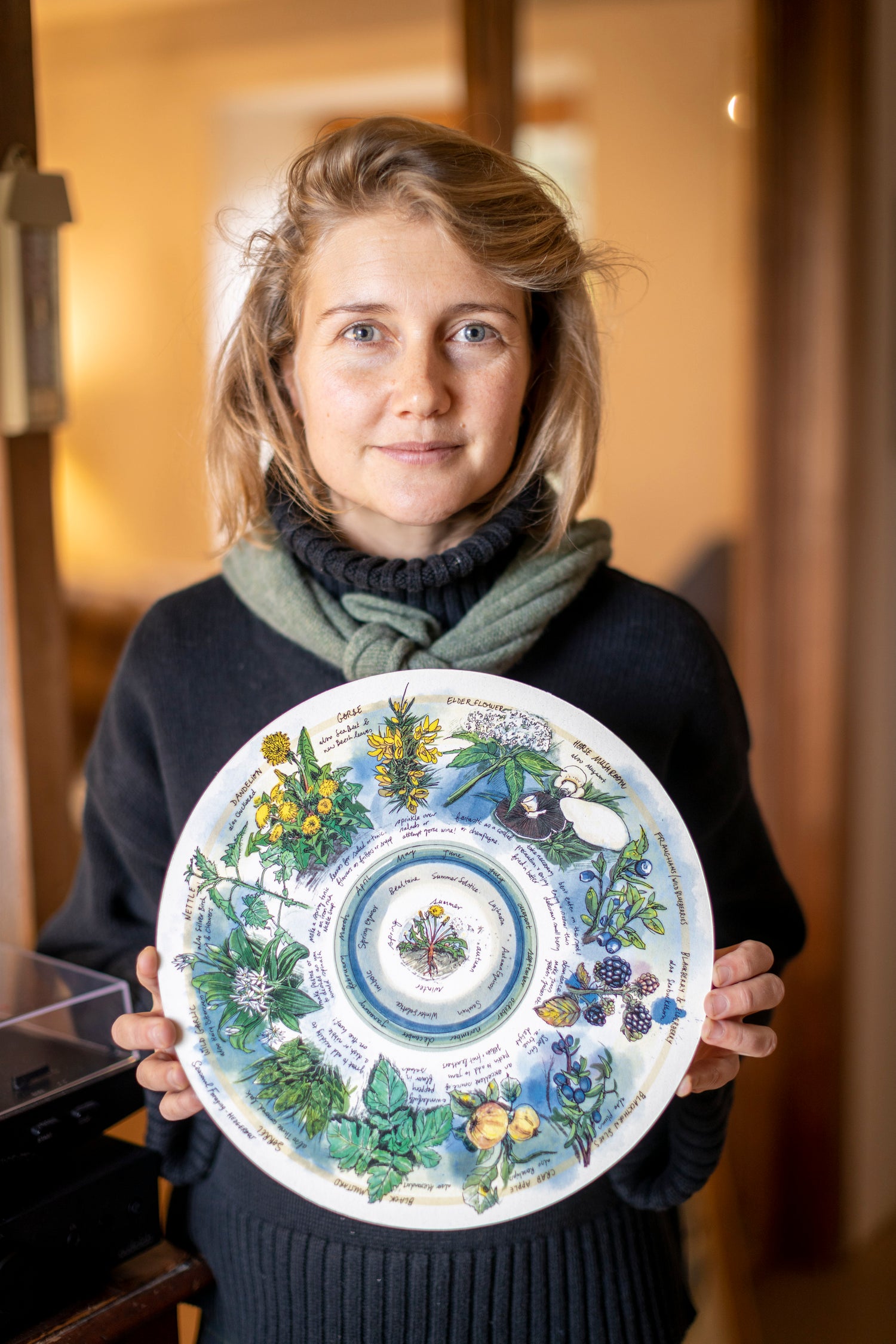 About a year later, I launched Native Circles.
I shared Wheel of the Year first, and the Women's Energy Cycle soon after. The idea I had conceived 12 months earlier was now out in the world. People's reactions were extraordinary; I got to see people recognise something they already knew deep down and simply delight in their uncovered knowledge. The art pieces soon adorned homes, schools, yoga studios, and even a convent. As more people discovered these first pieces, I worked on creating the other wheels. I still have a long list of circles to bring to life. 
Now, almost seven years later, the movement towards deeper natural connection and our Celtic heritage has grown. I am so grateful to be a small part of this ongoing transformation and return to the wisdom in nature. 
In my own life, these cycles have become central to how I try to live and be in the world. I am continually supported and inspired by nature, and I know how important it is to stay true to the natural cycles within myself and the world. 
These circles are your doorway back to nature
When life is demanding and full of noise, these artworks quietly invite you home to a place of wild wonder and grounding in your true self. 
Each wheel is an invitation for you to engage with that particular cycle. For example, if you choose the Moon Phases — Lunar Calendar, you'll turn your wheel each night in time with the shifting moon phase. When you first begin, you might notice a soft whisper of your inner world reflected in the cool lunar light. Maybe you'll find yourself pausing one night to watch the moon rise, even start looking for it more. 
Months later, as you keep turning your circle and watching the moon's movements, you'll notice its rising and setting points, and the path it traces through the night sky. Your relationship with our nearest celestial body may begin to feel personal and reciprocal. 
You'll start to find meaning and relate to other cycles, like more closely noticing the shift of the seasons, or the return of light in the spring. Eventually, these little signs of life reappearing will start feeling comforting and familiar, like meeting an old friend. You'll begin to trust that you have everything you need in the soft buffering breeze and the play of light on the long grasses.
Ready to reconnect with nature?
Find which wheel you connect with to begin your journey home.